The average Dane
The average Dane has the surname Nielsen and is 42.2 years old. He or she sees a doctor or a dentist about eleven times a year. He or she drives a Volkswagen and usually spends his or her holidays in Spain.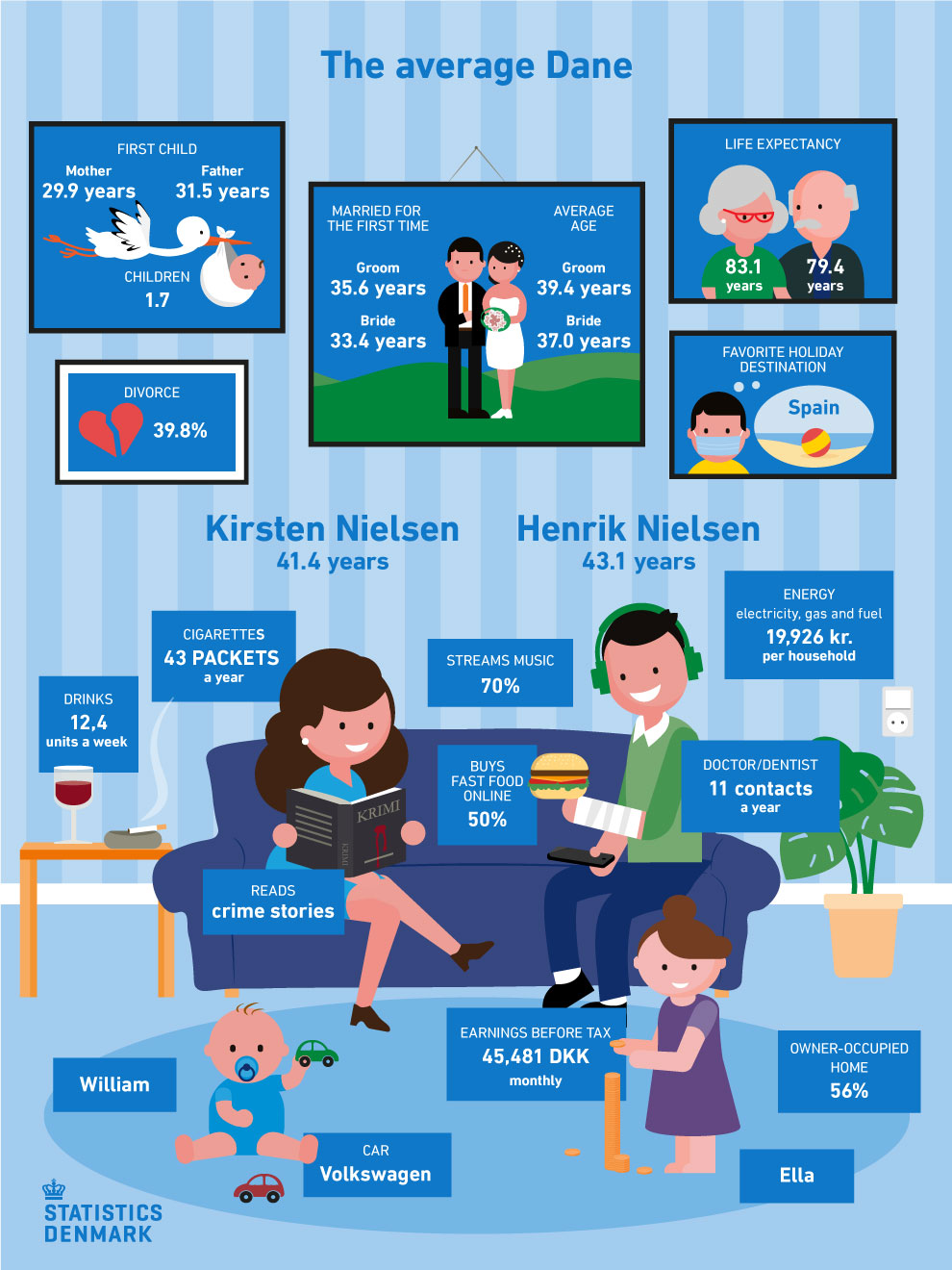 Him and her
Earnings and wealth
The average employee in Denmark earns DKK 45,481 per month before taxes. The amount includes pension and is calculated by the so-called standardised hourly earnings translated to a full-time monthly salary.
In 2021, Danes had a median net worth of DKK 749,519 after subtracting liabilities from assets.
Relationships
Family life
Leisure
"Top Gun: Maverick" was the best-selling film in 2022 with 769,000 sold cinema tickets.
In 2022, cinema ticket sales reached 9.9m, which was 3.3m more tickets than in 2021. The steep rise can be explained by the fact that 2021 was characterised by an extensive shutdown of cinemas due to COVID-19 restrictions.
When Danes go on holidays of at least four nights, they most often go to Spain. In 2022, Danes spent 19 per cent of their long holidays in Spain.
The majority of adults use social media. 91 per cent of Danes between the age of 16 and 74 have a profile on social media.
The majority of both women and men listen to (stream) music via the internet. This goes for pretty much all 16-39-year-old Danes and slightly more men than women, and for 70 per cent of the population as a whole.
64 per cent of Danish internet users between 16 and 89 years stream television or films.
Crime novels are the most popular literary genre. One in three adults prefer to read crime stories.
The majority of online shoppers ordered clothes, sports goods, tickets for events and fastfood.

92

per cent of families have at least one smartphone.
Housing
Health
Energy and Transportation